How old should my baby be for their newborn photo shoot?
As a Boca Raton newborn photographer I am often asked by parents what the best age for newborn photos is.
First let's talk about the actual booking process. Since the arrival of baby is often unknown, when I schedule a newborn session, I note the due date on my calendar. I leave room in my schedule to make adjustments to the date because we all know babies come when they want to, not necessarily on their due date. I always make sure I'll have available dates both a few weeks before and after your due date. Once baby arrives we will set the actual date for our session.
Posed newborn photo shoot:
When it comes to posed newborn photography. Under two weeks of age has become the acceptable time period needed to get those adorable curled up shots along with bucket and basket poses. The reason that posed newborn photographers recommend scheduling a session in the first two weeks is because newborns tend to sleep a lot more in those first two weeks. Sometime shortly after newborn babies will start having longer awake periods and tend to wake more easily when moved. Those first two weeks are the easiest time to get those precious posed newborn photos so many of my clients desire.
While I do typically schedule my posed Boca Raton newborn photo sessions within the first two weeks I have had success in photographing slightly older newborns for posed sessions. With many years of experience as a newborn photographer I have put together a list of helpful tips. After booking I send these tips to my newborn clients. These are helpful for all newborns photoshoots whether under two weeks or slightly older and when followed help us have a successful posed newborn session.
Lifestyle newborn photo shoot:
Lifestyle newborn sessions are completely different from my studio photo shoots and baby can actually be quite a bit older. This is a nice alternative for those who missed the newborn studio window. Although having a newborn session in the comfort of your own home appeals too many. The reason an in home newborn photo shoot works well for an older baby is because instead of posed photos in props the goal of a lifestyle newborn session is to tell your family's story. This means your home becomes the backdrop for your newborn session. I capture families snuggled up together. Photos of baby in the nursery (you spent so much time decorating why not capture your baby in this special space) and in other areas of your home. With this in mind newborn baby can be really any age.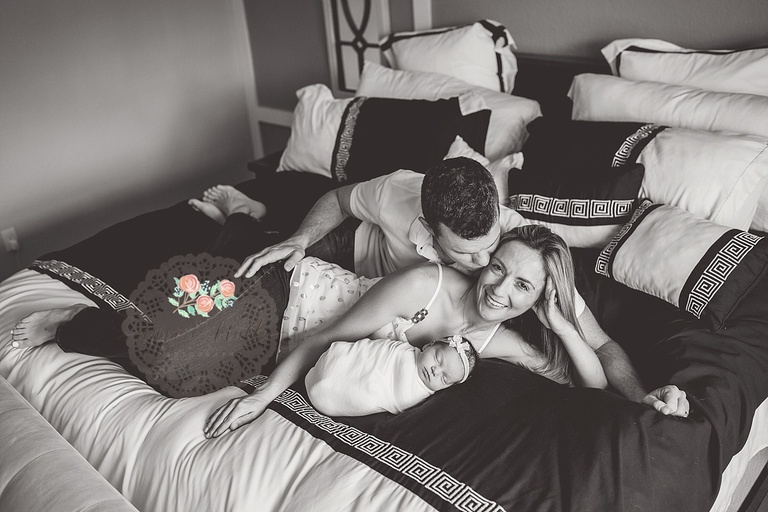 check out these beautiful examples of newborn photo shoots: newborn girl in Boca Raton studio. In home newborn session with baby Harper
So getting back to the original questions. What is the best age for newborn photos? This will depend on the type of session you are looking for. Whether you are looking for an in-studio or an in-home newborn photo shoot we can make sure we capture this amazing moment for you. Contact us here.