Don't stress on how to dress:
Being a South Florida photographer since 2011 I have helped many a client decide what to wear for a family photo shoot. In my years as a photographer I've noticed this is what stresses clients out most prior to a family session. My goal is to ease some of that concern and help bring some clarity to which looks work well and what should be avoided. Family photo shoots should be fun, and I hope the following 10 tips will help you relax and enjoy the process.
Tip #1
Coordinated but not matchy matchy:
When choosing outfits to wear to your photo shoot it is best to have a natural coordinated look as opposed to being overly matched. What you don't want is for everyone to show up in matching khakis with white tops. That would be a big no no.
To help achieve a natural look I suggest starting with one family member and allowing them to 'shine'. This means picking someone to wear an outfit that has multiple color and/or patterns to it. I will often suggest choosing a beautiful patterned dress for mom. However, a plaid shirt for dad can make him the star instead (see photo example above). The rest of the colors for the session should come from that one chosen outfit.
Lay out the chosen clothing together at home to make sure you have a good flow. The arrangement should use the colors in varying ways, not everyone needs to be wearing every color.
Tip #2
Location location location:
Sometimes the way to go is to dress for the location of your photoshoot. Dressing your family in various blues can look amazing at the beach. Mix solid blues with patterned blues for the best effect. If you are headed to a forest you may want to take wear some fall/winter tones. Pretending it's fall with outfit choices and location is a little trick I like to play in South Florida. Natural overgrown fields are a great place to pull out some vintage apparel or boho looks.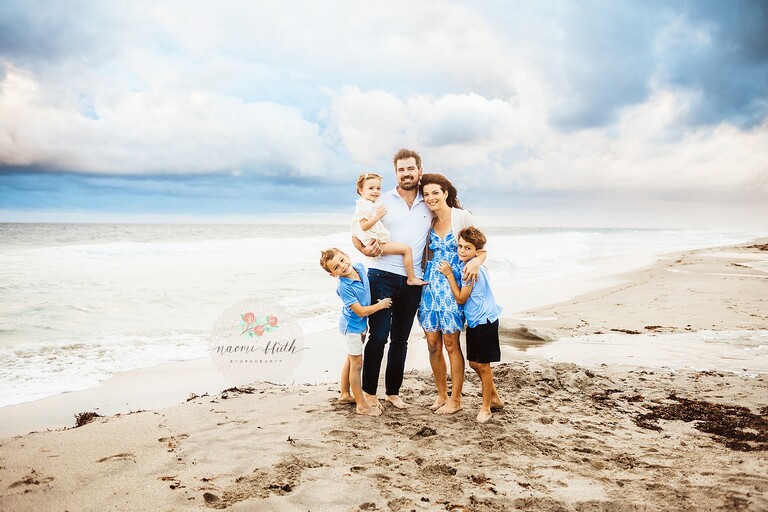 Tip #3
Where will your images be displayed?
Are you dreaming of seeing your photos as art on your walls? If this is your end game (and one I highly recommend) then consider which room these images will be displayed in. Is your home neutral colored? Now is the time to consider adding a splash of color. Or keep it neutral! Tans and Khaki colored outfits can keep your wall art looking light and organic. If you have a color scheme going through out your home make sure your chosen outfits will coordinate with your decor.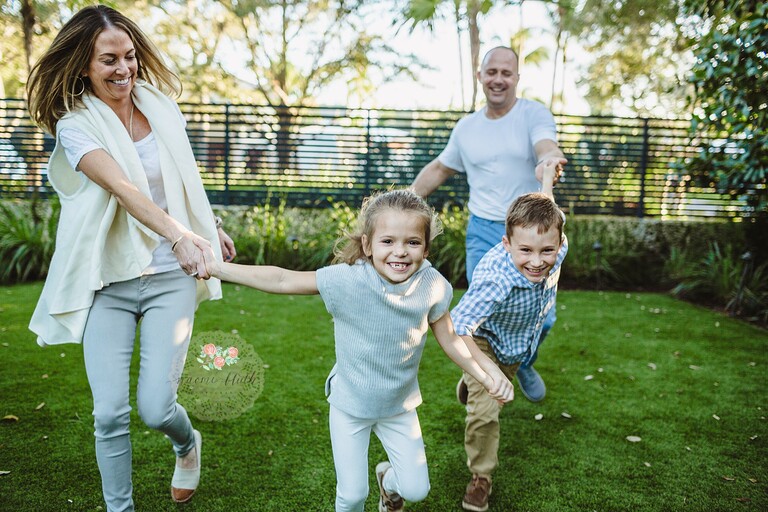 Tip #4
Tying it all together for large families:
Many larger families may find pulling together outfits for their photo shoot a bit daunting. No need to panic! Simply start off with a couple of colors you like. With a large group it can actually be easier to pull off a natural look. Multiple patterns within the group is totally fine! Mix up these patterns with some solids and bada-bing you are in business. Another fun trick is to bring in color through accessories and layers. Remember the key is that not everyone has to be wearing every color of your chosen palette.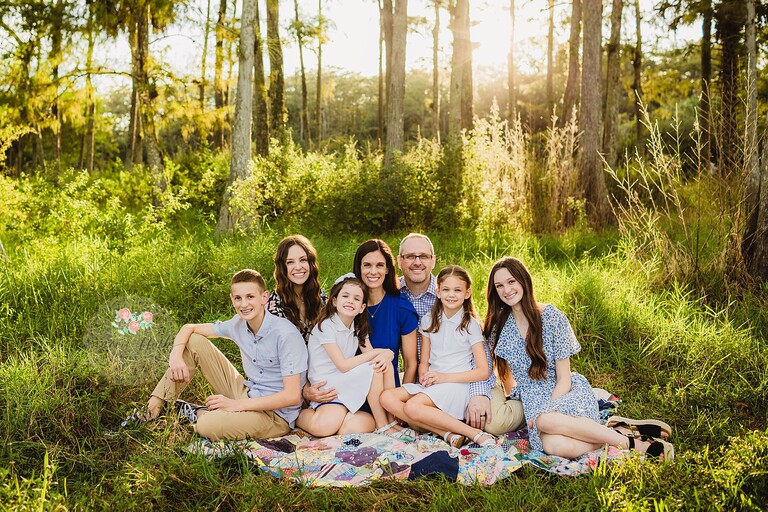 Tip #5
Pastels can be your friend:
I love pastels for a photo session color palette! They work in every location I've ever shot in. Pastels add a soft component to your photos allowing the subjects to shine. Just remember to mix it up and vary your outfits and pastel colors.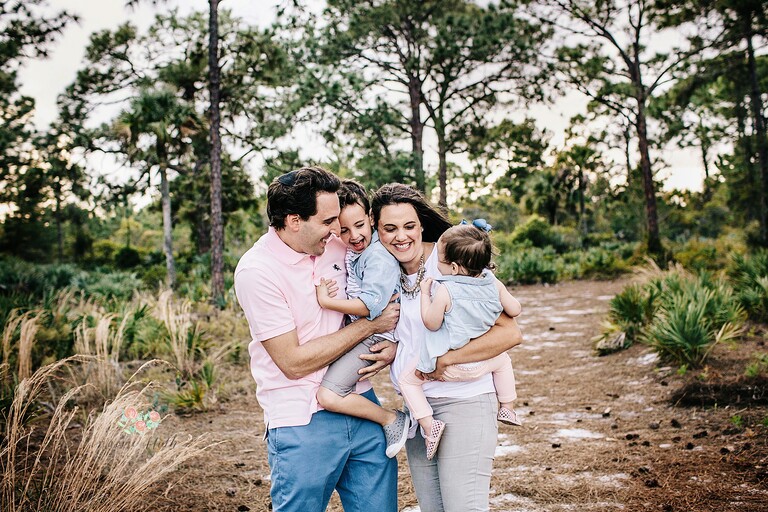 Tip #6
Don't be afraid to go bold:
Bold colors are so much fun in photographs. My style when photographing families is to shoot at sunset with the sun behind my families. This technique creates dreamy shadows and colors that pop! Bold colors print absolutely beautifully but are especially gorgeous for metal or acrylic pieces of art. I would, however, stay away from neon colors as they tend to throw unwanted color casts on skin. Deep bold colors are the way to go.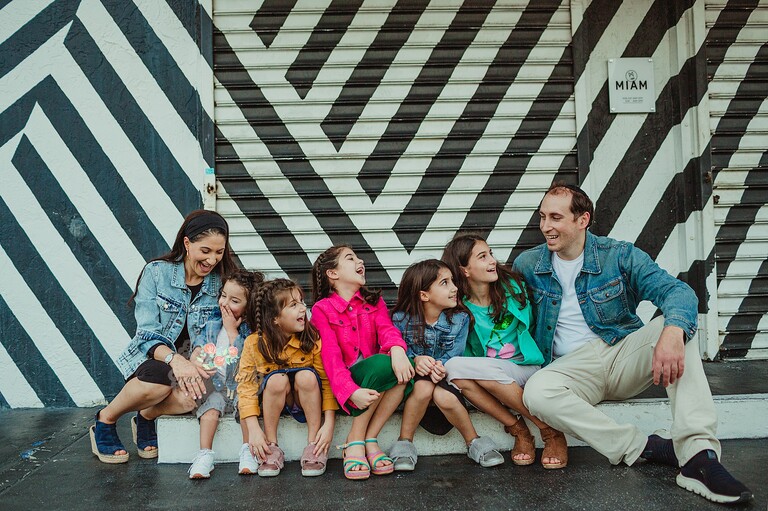 Tip #7
Accessories for the win!
I love using accessories to bring in color and interest into the styling of a photography session. Think about adding in some layers such as a cardigan or vest. Don't forget about hair accessories for little girls, that's a great way to add color! Teen girls and mom can wear 'chunky' jewelry. Suspenders for babies and toddlers can be super cute. And don't forget about shoes! Having on shoes that properly coordinate with your photos is a must. Stay away from sneakers unless they are something classic like Converse. Going to a forest or field location? Don't come in high heels, instead opt for boots to complete the look.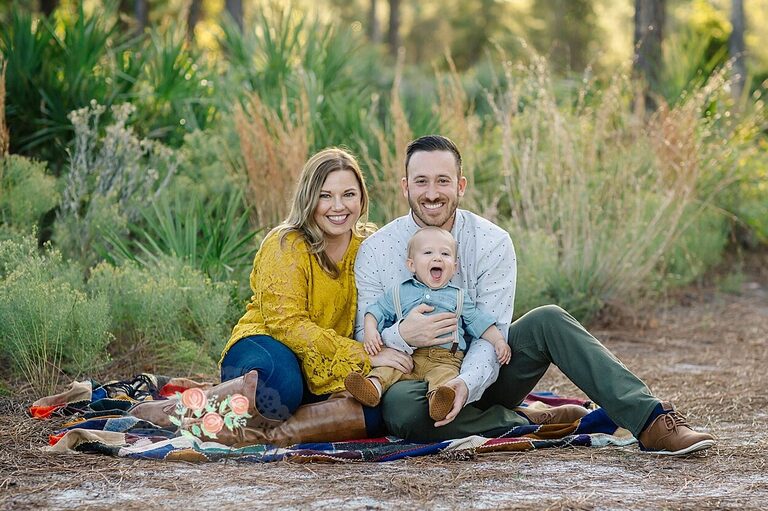 Tip #8
It can be totally ok to forget tip #1
While not being overly 'matchy matchy' is certainly my #1 go to rule, sometimes rules are made to be broken. In the photo below you will see a family that came completely matched to their session. Mom had a vision of a Burberry Christmas shoot. They pulled the look off seamlessly. I love how their photos came out!
Tip #9
Don't be dated:
You are going to want to avoid trends that may become dated. Instead of choosing outfits in the latest fashion, choose clothing that is likely to be timeless. Stick with traditional color palettes and clothing that won't have you looking back on your photos and saying "that was so 2020, what were we thinking?".
Tip #10
Most importantly, Have Fun!
I can't stress this enough, do not stress too much over your outfits. There are so many different directions to go in and it is really hard to go wrong. If you have a color idea you want to use but are not sure if it will work, consult your photographer. They have plenty of practice and knowledge of what works well. Photographers want you to love your final images and will be able to help guide you in your outfit selection.
I hope you found these 10 tips on what to wear for a family photo shoot helpful. If you should find yourself in the South Florida area I would love to discuss booking a family session for you. And don't worry I'll be happy to help you with your outfit selection. You can use this contact form here to get in touch with me.