Beach photo shoot with Boca Raton baby photographer:
One of the things I love most about offering baby photoshoot Boca, is the vastly different landscapes I am able to offer my South Florida clients.  This allows for so many beautiful natural backdrop options for photo shoot sessions.  Whether you are looking for a beautiful field session, a photo shoot with a rustic forest look, or the scenic backdrop of a beach session, we have it all here in the Boca Raton area.
Our sunset photography session:
For this little sitter photo shoot mom wanted to head towards the beach.  And oh what a wonderful evening it was!  I always book my beach photo shoots at the sunset hour. This garners the most magical of skies and beautiful weather as well.  Look at this little guy, he just rocked his Boca Raton baby beach session.  A sunset photo shoot on the beach is always so much fun.  Hudson loved every minute of it, okay maybe not the one time he toppled over face first into the sand… but he got over that pretty quickly.
Some of my favorite photos from this Boca Raton beach photoshoot with baby Hudson are of him playing with the strings of my raft. Just look at those chubby cheeks of his!  By the way that raft prop is an absolute favorite amongst my clients. I love it's one of a kind vintage vibe!  Another favorite photo from this beach photo shoot is of Hudson on a simple piece of burlap just smiling away.  It sometimes took dad acting really goofy to get these adorable smiles.  Oh and my favorite of all is Hudson facing the water where we can see his adorable little bum.
Post session I helped mom choose beautiful wall art and albums that she now has as a sweet memory of this super cute time in life.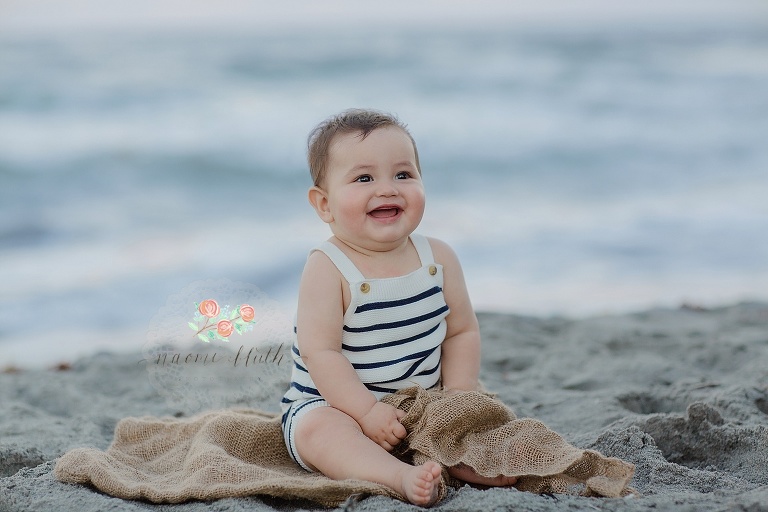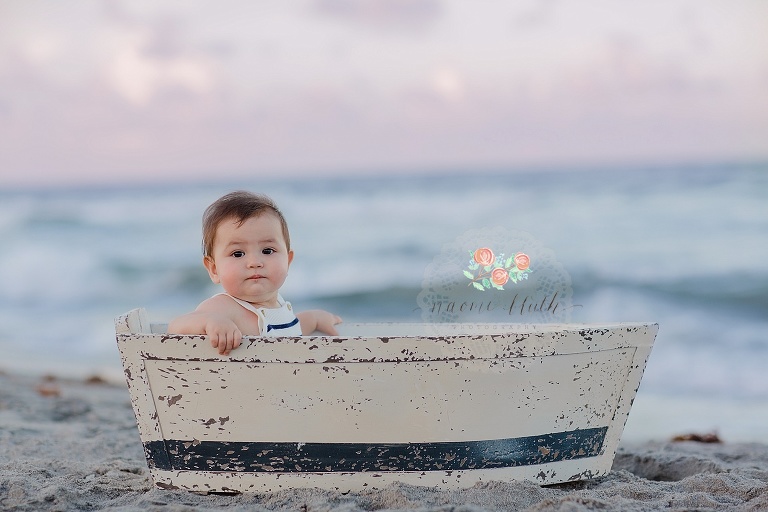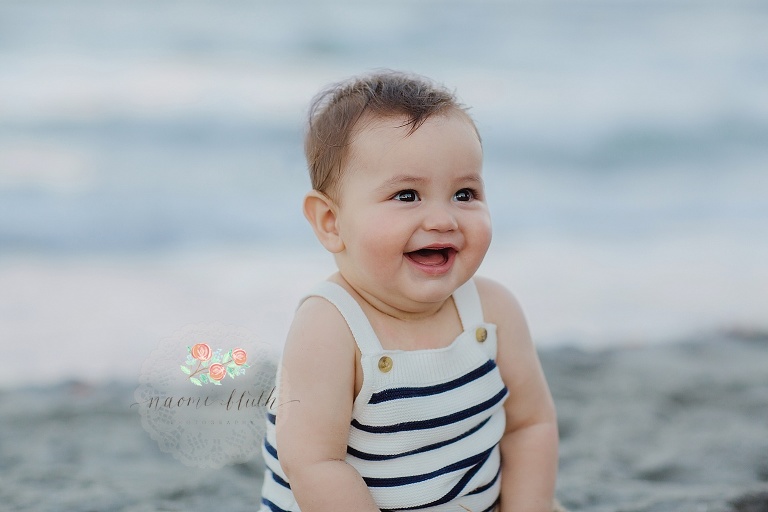 I would love to offer you a baby photoshoot Boca, click here for more information.  Want to see more little sitter cuties at the beach?  Check out Colton's beach photo shoot  and Luke's beach photography photo shoot